On initial setup, Windows prompts you to enter the computer name user name (depending on the version of Windows). If you want to change the user name you entered in this section later, know that this will not be easy. Although you can easily change your user name from the task manager user accounts section, the name of the user folder will not change.
The most important reason for this is the fact that there are a lot of documents and information there, and it is an installed program. Windows will not allow you to do this easily because you change the name of the main folder and all of them will get corrupted.
Change Windows user folder name
As shown in the image, there is no name change line for the user folder in the right menu. What you need to do for this is simply;
In this section, right-click and enter the folder name you want to use in the new folder. Turkish character can sometimes cause problems.
After creating the folder, start – do regedit.
Proceed as you see on the image. You can see a few folders on the left. Click on all to find the folder containing your folder name on the right.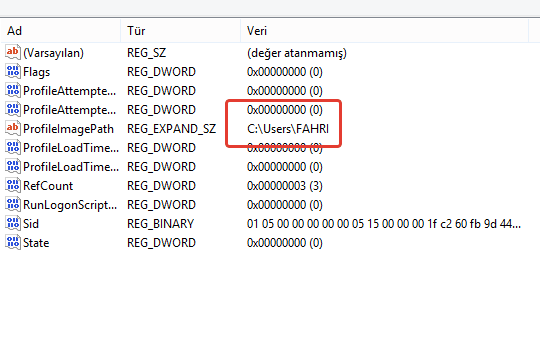 In this section, right-click on the first items and change the name of the folder you want to use the newly opened. We opened the folder for this place. This way we can enter that folder name here. Without it, we wouldn't have.
After that, restart your computer.
After turning on the computer will give a small error. It will start you on another user.
No panic. This is normal because we have completely changed the user folder and everything has changed the way, so that we have a temporary profile in order to avoid problems with Windows.
You will go to the Users section and replace your old username folder with your new username. This will also be the same username you typed in the regedit section above.
To do so, delete the folder you created later and rename the old folder.
Here we created a new folder and renamed the paths to change the name of the old folder.
The name of the new folder can now be changed.
Modify and log off. When you log in again, the distress is corrected.